How to select and document samples for best results

Physical property measurements are no better than the degree to which the samples represent the formation or mineralization zone under study. For meaningful results, select samples typical of the area under investigation in terms of quantity and characteristics.
We recommend selecting a suite of samples from the surface area and/or from available core obtained by drillhole, and sending an excess of samples so that laboratory staff can choose the ones best suited for testing. Depending on the procedures desired, samples may be surface or underground grab samples, drill core, chip samples, or mud samples.
Selecting samples to determine anisotropic properties
To determine anisotropy such as commonly occurs in bedded or schistose rocks, it is strongly recommended that samples be cubed or cored in three mutually orthogonal directions for three tests per sample.
Sample size
Select bulk samples with a minimum size of 4″ x 4″ x 4″ (10cm x 10cm x 10cm). This is about the size of a large fist.  Core samples should be a minimum of 5″ (13cm).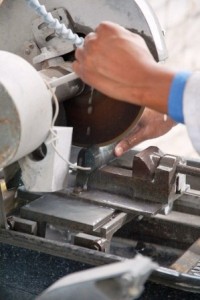 Samples should be fracture-free, although mended (silicified) fractures are usually strong enough to withstand cutting. If this size is not attainable, two or three pieces of a slightly smaller size may suffice.
Chip, clay and sand sample size
Minimum volume of 1.85 in3 (30 cm3)
1.06 ounces (30 g) for clay or sand
1.41 ounces (40 g) chip samples
Ordering
Carefully bag and mark your samples with waterproof ink. Include with your order…
sample descriptions
property determinations you want made
necessary parameters (such as IP time cycle)
orientation of the sample, and
instructions for final disposition
Documenting samples for magnetic remanence vector measurements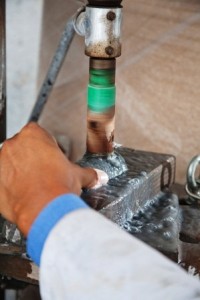 Samples for magnetic remanence vector measurements must be oriented in space. Document the in situ orientation in space for the submitted sample.
Documenting core and other samples
Most holes are drilled at an angle, not vertically.  Orient the sample as it was in situ, with the appropriate end pointed toward the surface, rotated so the appropriate cylindrical "side" is oriented "up." Mark an arrow on the "top" of the cylindrical side, pointed down hole.  Document the declination and inclination for this arrow.
Mark all other samples with three lines: an arrow pointing North on the top surface, and a line indicating horizontal on each of two, preferably perpendicular sides.
Need help?
Email us at zonge@zonge.com or call 1-520-327-5501 (U.S).