Volume magnetic susceptibility laboratory measurements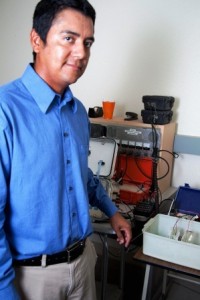 Volume magnetic susceptibility measurements are made in the Zonge laboratory with a magnetic susceptibility-bridge instrument operating at a frequency of 400 Hertz. The limits of detectability of the bridge are approximately 1.0 micro cgs units (1.26E-05 SI units). Resulting data are presented in micro cgs units of volume magnetic susceptibility.
The SI unit conversion is:
          k     = 12.566 k
           (si)           (cgs)
Applicable samples
Magnetic susceptibility measurements are made on a 1.0 inch diameter bi-cylindrical core cut from each sample. Sometimes, surface samples may be broken to chip size which can be run with appropriate correction for the rock/void ratio of material. Also, sand, mud or chip samples can be utilized in the determination of volume magnetic susceptibility with appropriate corrections for porosity and/or voids.