Get help
Free customer support for Zonge instruments and software is available via email at service@zonge.com. Assistance with data processing and interpretation is also available.
Get field training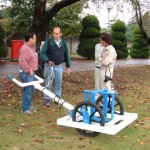 To schedule training specific to your project needs, email sales@zonge.com
Zonge personnel with expertise in your intended use can provide individual or group training. Training is performed with a local translator when needed and is customized to your needs and objectives. Thorough training for field setup, data acquisition, and processing for your project usually requires three or more days.
Training at Zonge's Tucson, Arizona facility is provided with every Zonge equipment purchase. Additional field training at your site is also typically scheduled with new system purchases and priced separately.
Get upgraded
To update your Zonge processing and modeling software, to upgrade your GDP with the latest acquisition software versions, or to add modules for additional survey methods, email sales@zonge.com